On land or sea, leave your tour planning to me!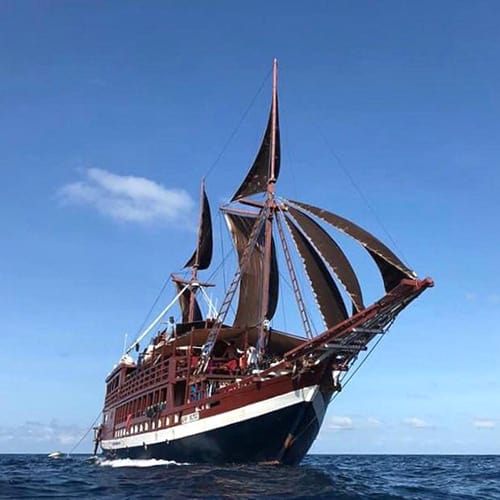 3-DAY 2-NIGHT Komodo Liveaboard Tour
For any of our Komodo Island Tours from Labuan Bajo, we'll pick you up at the airport or your hotel. This trip includes three days of sailing on a traditional Phinisi ship, trekking, snorkeling, and celebrating on several local islands. Visit Kelor, Menierite, Padar, Gili Lawa, Danwa, and, of course, Komodo Island to see the big guy at home. Delicious meals onboard before the sea rocks you to sleep at night.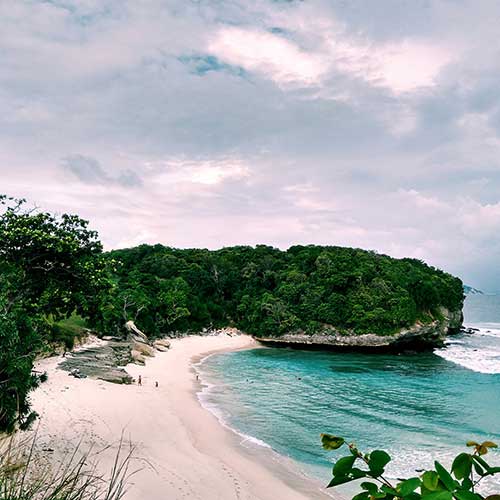 2-DAY 1-NIGHT Komodo Liveaboard Tour
Airport or hotel pickup in Labuan Bajo, then two days of sailing on a traditional Phinisi ship, trekking, snorkeling, and celebrating on several local islands. Visit Kelor, Menierite, Padar, and of course, Komodo Island to see the dragons. Panoramic mountain views! Stunning fish and coral! Fox bats soaring in the sky!
1-DAY Island-Hopping Speedboat Tour
Our local guide will pick you up at the airport or your hotel in Labuan Bajo for an adventure-packed day of speeding between and exploring several islands. You'll stop at Taka Makassar, the longest reef in the Komodo National Park, to see manta rays flying through the water. And trek on Komodo Island to see our famous dragons relaxing in their natural habitat.
These three Komodo Island Tours from Labuan Bajo above are some of our most popular. Flores Island has many enchanting places to visit. Check out the 7-day, 6-night tour below: an overland and sailing itinerary which includes a cruise to Komodo Island and an overnight in Wae Rebo village. We also have a 2-day, 1-night tour to Wae Rebo!
7-day, 6-night komodo and flores island tour
DAY 1: Labuan Bajo, Kelor, Menjerite, and Kalong Islands.
Your local guide will welcome you at arrival gate and drive

you

the boat with a stop at

Puncak Waringin

a, picturesque overlook above

the Labuan Bajo Harbor.

After checking in, you'll sail on a Phinisi boat to Kelor Island and hike up

the hill for a breathtaking view of West Flores mainland and island panorama.

Next the boat will set sail for Menjerite Island for snorkeling outside the Komodo National Park borders to discover discovering the unique beauty of fish and coral.
Late afternoon you'll cruise to Kalong Island, the home of thousands of wild fox bats soaring through the sky.
You boat will anchor nearby for a delicious dinner and a restful sleep.
Komodo Dragons, the largest lizards on earth! Up to three meters long, the length of a small car, and up to 135 kilograms, about the weight of a panda bear!
DAY 2: Komodo, Pink Sand Beach, Manta Point, Kanawa Island, Labuan Bajo
After breakfast at dawn, you'll sail directly to Komodo Island.

Upon arriving at the ranger station, a naturalist guide will instruct you on viewing the famous Komodo dragons, called Ora by the locals. our guide lead to the ranger station and have trekking guideline from the naturalist guide.

When your 90-minute trekking adventure is finished, the boat will cruise over to the Pink Beach for snorkeling, leisure time, or a nap on the sand.

Around noon the boat will depart for Manta Point for an experience with wild manta rays. (Viewing depends on weather, current flow, and good luck!)

Next destination, Kanawa island with its superb white sandy beach, abundant fish, and colorful coral gardens .

Later that afternoon you'll cruise back to Labuan Bajo and be driven to your hotel for a sweet evening remembering your day's adventures.
DAY 3: Labuan Bajo, Dintor, Denge village, Wae Rebo
After breakfast at the hotel, you'll begin

your Flores Island overland tour by driving through the hills on the Trans-Flores main road.

On the southern part of Flores, you'll pass through less traveled villages along the way to Dintor.

Lunch will be at Martin's Lodge in a small cafe with views ricefields, mountains, and the ocean.

Arriving at a stopping spot near Denge village, you'll take a quick scooter trip before

hiking to Wae Rebo village, a secluded village surrounded by unspoiled nature, with traditional houses, customs and a warm community.

A 2-to-3 hour trek through the dense Todo jungle forest brings you to

Wae Rebo and its seven traditional houses, 1,200 meters above sea level.

A memorable meal and overnight homestay is in store for you inside these amazing conical structures

.
UNESCO has designated the mystical village of Wae Rebo as a World Heritage Site. A memorable meal and overnight homestay is in store for you inside these amazing conical structures
.
DAY 4: Wae Rebo, Wae Contest, Dintor, Spider Web Rice Field, overnight in Ruteng town
After breakfast at Wae Rebo, you'll walk downhill through a coffee plantation on the way back to Wae Contest.

You'll ride back to Dintor for lunch at local restaurant before your

overland adventure continues over hills and mountains enroute to the popular Spider Web Rice Field.

Hike through white sand mining which overlooks the rice field. 

Your overnight lodging will be at a hotel in Ruteng town

.
DAY 5: Ruteng, Aimere, and Bajawa, Ngada Regency capital 
After breakfast and hotel checkout of hotel. you'll visit an old chathedral built in 1923. Ruteng town is one of largest and busiest towns in West Flores.

The drive to the city of Bajawa presents more gorgeous mountain panaramas and includes a

stop in Aimere, a coastline village famous for the distillation of its local liquor called "Arak".
Late afternoon you'll arrive in Bajawa, the capital of the Ngada Regency located in East Nusa Tenggara province. Lying in the shadow of the Inierie Volcano, Bajawa is known for it scenery and natural hot springs used for bathing. After sightseeing and dinner, you'll overnight here in a local hotel.
DAY 6: Bena traditional village, Nanga Penda beach, Ende, overnight in Moni village
After breakfast, drive to Bena, a megalithic traditional village belonging

to the nine tribes of the Ngada Regency.

Believed to be constructed over 1200 years ago, Bena consists of 45 thatched-roof traditional houses.

Another drive on the Trans-Flores main road brings you to Nanga Penda, a beautiful, blue-stone beach.

You'll stop for lunch at seaside restaurant along the way before v

isiting Ende, the largest city in Flores with more that 60,000 inhabitants. You'll tour the Bung Karno Museum in the old house occupied by Soekarno, one of the founding fathers of Indonesia. .

You'll arrive late in the afternoon at Moni village for check-in at your hotel, dinner, and a good night's rest.
DAY 7: Kelimutu Lake, Wologai traditional village, Ende, and the airport
Rise at 4 am in the morning and ride to Kelimutu Lake. Watch the sun rise over the caldera before

walking back to the car point, returning to the hotel, eating breakfast, and checking out.

One more lovely trip to Wologai traditional village, the

home of the Lio tribe.

Ride back to Ende and transfer to the airport to celebrate the completion of your Flores and Komodo Island Tour from Labuan Bajo

.
FYI: Prices vary for several reasons: high or low tourist seasons, the exact days of travel, number of passengers, destinations, and itinerary. For this Komodo Island Tour from Labuan Bajo, the inclusions, exclusions, and additional info is similar to the other tours. Please contact me for the exact details!
Here are two more Komodo Island Tours from Labuan Bajo for you! On land and sea!
Please call or text me for more info, prices, and complete itineraries.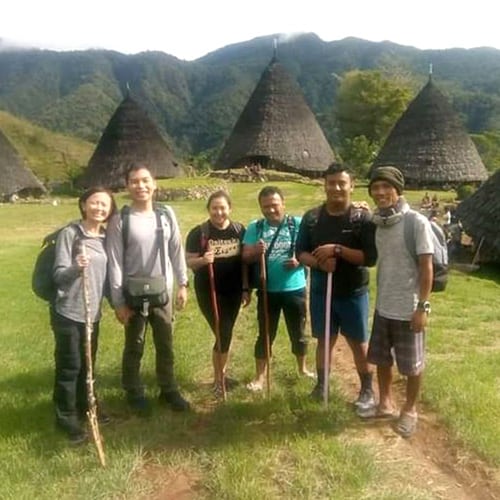 2-DAY 1-NIGHT West Flores Wae Rebo Village Tour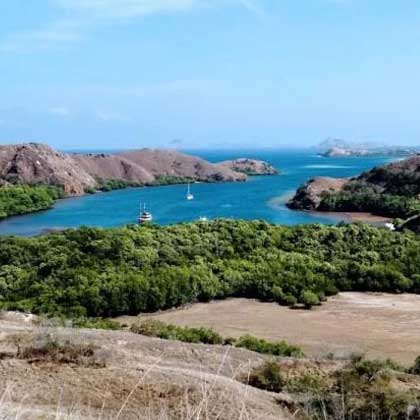 2-DAY 1-NIGHT Rinca Island Tour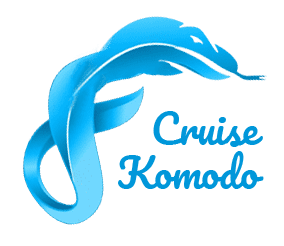 Cruise Komodo is registered under PT. Frendosarthatour and officially certified by HPl, Himpunan Pramuwisata, the Tour Guide Association of Indonesia
Jl. Soekarno Hatta No. 36
Labuan Bajo, Komodo
West Manggarai Regency
NTT, Indonesia
Let's start planning your future now...