Small, medium, or Large?
i'll find the yacht you want!
You won't always find the best Yacht Charter prices on the web
The Lonely Planet has selected this Indonesian 500-island area as a "Best Value Destination." Though rising in popularity, Labuan Bajo is still a friendly fishing town at heart. As a local tour planner and yacht charter agent in Labuan Bajo, I keep my eyes open, my ear on the phone, and my finger on the pulse of the local scene. Prices vary with the season. March, April, and June are the busiest; September the slowest and least expensive. Guest cancellations provide opportunities for flexible clients. Boat captains would rather be sailing than sitting idle on a boat in the harbor. Schedules for Phinisi boats and yachts can change from one day to the next. Let's chat about what you are looking for and when. The more I know about your dreams, the easier it will be to fulfill them. Below you'll find info to help you decide when to visit our slice of heaven on earth.
IDEAL months for a yacht charter? That depends on what you LIKE!
INDONESIA HAS TWO SEASONS: RAINY (October to March) and DRY (March to September)
SEPTEMBER to NOVEMBER: The slowest tourist season. Weather is relatively cool. Rain or snow averages 6-16 days per month. Temperatures from 79.3°F (26.3°C) to 77.8°F (25.4°C). More affordable prices for lodging.
DECEMBER to FEBRUARY: Relatively few tourists, busier during Chinese New Year. Waves at sea might be higher than normal. Weather is comfortable, but unpredictable for rain and snow which averages 13-19 days per months. Temperatures from 77.9°F (25.5°C) to 75.1°F (23.9°C). More affordable prices for lodging.
MARCH to MAY: The busiest season. Frequent rain, 10-18 days per month. Temperatures from 77.2°F (25.1°C) to 75.5°F (24.2°C). The area bustles with tourist activity. Higher prices for lodging, etc.
JUNE to AUGUST: The second busiest tourist season. Weather is comfortably hot with the least precipitation. Temperatures from 86°F (30°C) to 82.4°F (28°C). Prices may be slightly higher. Komodo dragon's mating season.
Options for Luxury Yacht Charter in Labuan Bajo
15 suites across 4 decks in 3 different suite categories, individually-designed with modern luxury and ultimate comfort in mind. Refurbished in 2019, this 60-meter yacht was originally build in 1968 as the British Naval Explorer HMS Beagle. 
A brand new 52-meters liveaboard with an all aluminum hull, deck superstructure, and powerful twin marine engines providing 20 knots cruising speed which makes her the fastest diving liveaboard in Indonesia.
FYI: The photos included on this yacht charter in Labuan Bajo page are samples of ships and their accommodations. Prices depend on the season and days of travel, number of passengers, destinations, and itinerary.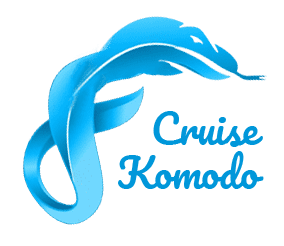 Cruise Komodo is registered under PT. Frendosarthatour and officially certified by HPl, Himpunan Pramuwisata, the Tour Guide Association of Indonesia
Jl. Soekarno Hatta No. 36
Labuan Bajo, Komodo
West Manggarai Regency
NTT, Indonesia
Let's start planning your future now...