3-DAY 2-NIGHT Komodo Liveaboard Tour
When you arrive for your Komodo Island boat tour, we'll pick you up at the airport or your hotel in Labuan Bajo for three days of sailing on a traditional Phinisi ship, trekking, snorkeling, and celebrating on several local islands. Visit Kelor, Menierite, Padar, Kanawa, Gili Lawa, and, of course, Komodo Island to see the big guy at home. Along the way you'll see superb views from mountains, stunning ocean fishes, multicolored corals, and thousands of fox bats soaring in the sky.
• ITINERARY • INCLUSIONS • EXCLUSIONS • WHAT TO BRING •  
DAY 1: Labuan Bajo to Kelor, Menjerite, and Klong Islands
Our local guide will meet you at the airport/hotel and take you for a hearty welcome on your tour boat.
Morning cruise to Kelor Island and hike to a scenic overlook for panoramic views of the island and mainland.
Midday cruise to a prime snorkeling spot near Menjerite Island to experience the underwater world of multicolored fishes and coral.
Late afternoon cruise to Kalong Island, where thousands of fox bats fly overhead.
Enjoy dinner and a peaceful night onboard, anchored in the bay of a nearby island.
DAY 2: Padar, Komodo, and Gili Lawa Islands
Early morning cruise to Padar Island for a trek on paved steps to hilltop for White Sand Bay view (30-minute to 1-hour hike)
Back down to sea level for a cruise to the popular Pink Beach at Long Bay on the other side of the island.
Noontime cruise to Komodo island. A local park ranger will share legends and facts about Komodo Dragons (called Ora by the locals) and how to act while visiting their natural habitat. (A must before exploring the island!) The ranger will lead you on the tour after settling on what kind of trek: short or long, flat ground and/or hill zones.
Late afternoon cruise to Gili Lawa Island for dinner and overnight.
DAY 3: Gili Lawa Island, Manta Point, Kanawa Island, then back to Labuan Bajo
Rise early for a refreshing trek up to Sunrise Hill on Gili Lawa Island.
Breakfast on the boat before a slow cruise to Manta Point where manta rays sail by underwater, depending (on the weather and current flow).
Midday cruise to Kanawa Island for more splendid snorkeling, then back to Labuan Bajo, where you can have a delicious meal and relive the memories of your Komodo Island boat tour!
INCLUSIONS:
Pick up/drop off at Labuan Bajo area airport/hotel
Local tour guide
Phinisi boat for 3 days
Full onboard meals (3x lunch, 2x dinner, 2x breakfast)
Coffee, tea, bottled water, and light snacks while cruising
Snorkeling gear (mask, fins, snorkel, life jacket)
Safety equipment & first aid kit on boat
EXCLUSIONS:
Airline tickets
Entrance fees for national parks
Drone flying permit
Travel insurance
Alcoholic drinks
Personal expenses
Gratuities for Tour Guide and Boat Crew
ADDITIONAL INFORMATION:
Confirmation will be sent at time of booking
Not wheelchair accessible
Stroller accessible
Infant seat available
No heart problems or serious medical conditions
Most travelers can easily participate
WHAT TO BRING: More suggestions on FAQ page.
Sunglasses, sunblock, sunhat, sun visor
Long-sleeved shirt, pants
Waterproof bag
Personal toiletries
Flashlight
Insect repellant
Trekking shoes
Indonesian SIM card for internet
Extra cash
FYI: The photos included on this page are samples of a Phinisi boat and its accommodations. Depending on the days your Komodo Island boat tour is scheduled, a similar vessel might be prepared for you.
Prices and Phinisi for Komodo Island Boat Tour
FYI: Prices vary for several reasons: high or low tourist seasons, the exact days of travel, number of passengers, destinations, and itinerary. The photos included on this page are samples of a Phinisi boat and its accommodations. Depending on the days your Komodo Island boat tour is scheduled, a similar vessel might be prepared for you.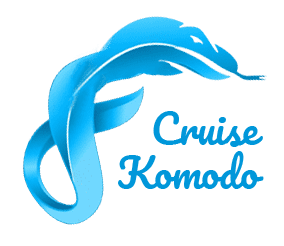 Cruise Komodo is registered under PT. Frendosarthatour and officially certified by HPl, Himpunan Pramuwisata, the Tour Guide Association of Indonesia
Jl. Soekarno Hatta No. 36
Labuan Bajo, Komodo
West Manggarai Regency
NTT, Indonesia
Let's start planning your future now...